Howdy, Stranger!
It looks like you're new here. If you want to get involved, click one of these buttons!
Categories
In this Discussion
Participants: Hannah Ackermans * Julianne Aguilar * Bo An * Katie Anagnostou * Joanne Armitage * Lucas Bang * Alanna Bartolini * David M. Berry * Lillian-Yvonne Bertram * Elisa Beshero-Bondar * Briana Bettin * Sayan Bhattacharyya * Avery Blankenship * Gregory Bringman * Tatiana Bryant * Zara Burton * Evan Buswell * Ashleigh Cassemere-Stanfield * Angela Chang * Prashant Chauhan * Lia Coleman * Chris Coleman * Bill Condee * Nicole Cote * Christina Cuneo * Pierre Depaz * Ranjodh Dhaliwal * Samuel DiBella * Quinn Dombrowski * Kevin Driscoll * Brandee Easter * Jeffrey Edgington * Zoelle Egner * Tristan Espinoza * Teodora Sinziana Fartan * Meredith finkelstein * luke fischbeck * Cyril Focht * Cassidy Fuller * Erika Fülöp * gripp gillson * Alice Goldfarb * Jan Grant * Sarah Groff Hennigh-Palermo * Saksham Gupta * MARIO GUZMAN * Gottfried Haider * Rob Hammond * Nabil Hassein * Diogo Henriques * Gui Heurich * Kate Hollenbach * Stefka Hristova * Bryce Jackson * Dennis Jerz * Joey Jones * Amy Kintner * Corinna Kirsch * Harris Kornstein * Julia Kott * Rishav Kundu * Karios Kurav * Cherrie Kwok * Sarah Laiola * RYAN LEACH * Rachael Lee * Kristen Lillvis * Elizabeth Losh * Jiaqi LU * Megan Ma * Emily Maemura * ASHIK MAHMUD * Felipe Mammoli * Mariana Marangoni * Terhi Marttila * Daniel McCafferty * Christopher McGuinness * Alex McLean * Chandler McWilliams * Todd Millstein * Achala Mishra * Mami Mizushina * Nick Montfort * Molly Morin * Gutierrez Nicholaus * Matt Nish-Lapidus * Michael Nixon * Mace Ojala * Steven Oscherwitz * Delfina Pandiani * Stefano Penge * Megan Perram * Gesina Phillips * Tanner Poling * Julia Polyck-O'Neill * Ben Potter * Amit Ray * Katrina Rbeiz * Jake Reber * Thorsten Ries * Giulia Carla Rossi * Barry Rountree * Warren Sack * samara sallam * Mark Sample * Perla Sasson-Henry * zehra sayed * Carly Schnitzler * Ushnish Sengupta * Lyle Skains * Andrew Smith * Rory Solomon * S. Hayley Steele * Samara Steele * Nikki Stevens * Daniel Temkin * Anna Tito * Lesia Tkacz * Fereshteh Toosi * Nicholas Travaglini * Paige Treebridge * Paige Treebridge * Álvaro Triana Sánchez * Lee Tusman * Natalia + Meow Tyshkevich + Kilo * Annette Vee * Malena Velarde * Dan Verständig * Yohanna Waliya * Samantha Walkow * Josephine Walwema * Shu Wan * Biyi Wen * Zach Whalen * Mark Wolff * Christine Woody * kathy wu * Katherine Yang * Shuyi Yin * Nikoleta Zampaki * Hongwei Zhou
Code Critique: A Turing Machine in a Spreadsheet
Arguably, there is more programming done today in spreadsheets than any other programming language. (Or is it a programming language at all?) I'd like to kick off a discussion of how Critical Code Studie can approach the analysis of programming in spreadsheets with a look at an usual example: a Turing Machine built in a spreadsheet.
The Turing Machine is the hypothetical contraption Alan Turing described in "On Computable Numbers, with an Application to the Entscheidungs problem." One team of Netherland-based developers, including Felienne Hermans, were at a retreat when they decided to try to build on in Excel.
Object of Study: A Turing Machine built in a spreadsheet
Language: Excel
Developer: Felienne and Co.
When: 2013
Demo: The Turing Machine spreadsheet
In addition to examining this use of a spreadsheet to create a Turing Machine, I would like to open up the discussion about spreadsheet programming. First, of all, so much research depends on work done in spreadsheets. Consider this small example of spreadsheet work gone awry. However, seeing this work in spreadsheets as programming may seem counterintuitive. I recently had a conversation with UCLA's Todd Millstein, who demonstrated the conditional statements and loops that can be written into spreadsheets (and pointed me toward that previous example). But certainly, most of this work does not look like our conventional concept of "coding." The interface metaphor itself is distracting. However considering even formulas in spreadsheets as programming starts to dissolve the conceptual boundary between programming and mathematics. Perhaps the Turing Machine is a good place to start because it is self is a mathematical model/specification/thought experiment.
Also, useful is Felienne's talk: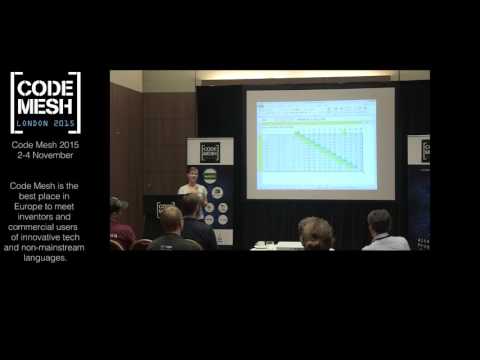 Questions:
How do we understand spreadsheets as programming languages? Or do we consider them more IDEs? APIs/COM Component?
What language/methods do we need to describe the kinds of programming done in spreadsheets?
What other examples of programs written in spreadsheets should we examine?
But specifically: What does this implementation of a Turing Machine teach us about Turing's formulation of this model?
I suspect this piece in particular might speak to @ebuswell's discussion of state in "Creative and Critical Coding. Coding as Method?"